Bristlecone is Your Denver Area Gunsmithing Headquarters

If you're looking for a gunsmith expert in the Denver metro area, look no further than centrally located Bristlecone Shooting, Training & Retail Center.
Our experienced resident gunsmith team consists of two certified gunsmiths who are focused on safety, accuracy, and craftsmanship and excel in customer service. Our team is focused on providing a high level of service and expertise to our members and customers.
Our gunsmithing customers seek us out in order to have their firearms repaired, modified, or restored and we take on each individual project with a sincere appreciation of the customer's needs and intent.
We work on handguns, long guns, and NFA firearms and take a consultative approach in providing our services. Whether you want a firearm redesign or want to stop in for simple gun maintenance, you will be met with responsible and inventive advice on how to meet your goals.
Stop by and ask us about any of our safe, high-quality gunsmithing services, including:
Firearm Repair And Routine Maintenance

– We are well-equipped to repair and service any kind of firearm you own. We will disassemble, clean, safety check, oil, and reassemble your gun.

Firearm Restoration

– Whether your firearm is new to you or has been in your family for decades, Bristlecone knows how to handle your gun, ensuring it returns to its original state.

Firearm Design and Customization

– Our team of gunsmiths will work with you on any gun customization project, providing insight and knowledge every step of the way. The customization we specialize in includes custom textures and finishes, stippling, Cerakote, and more. Custom trigger work and sight installation, and custom builds and assembly are also offered.

Other Gunsmithing Services

– Scope mounting, laser bore-sighting, recoil pad installation, re-barreling, and firearm appraisals are offered.
Bristlecone takes care of all gunsmithing projects with the highest integrity, always keeping safety, collaboration, and customer service at the forefront. Call us with any of your Denver area gunsmithing needs.
Our gunsmith hours are 12 PM – 6 PM Monday–Saturday and closed on Sunday.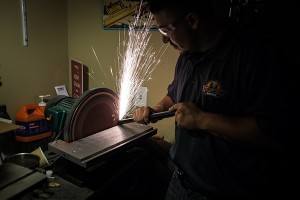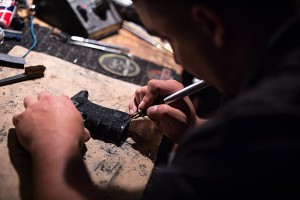 Call 303-985-0989 for more information or ask our Onsite Denver Gunsmith a question!